Divorce in Florida: Do You Have to Give the Ring Back?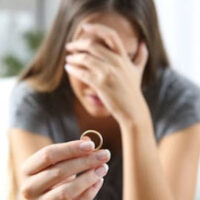 Engagement rings and wedding rings are notoriously expensive. According to the most recent industry data, Americans now spend an average of $6,000 on rings. Of course, many people spend far more than that—in fact, an engagement ring may be one of the more valuable assets a couple owns.
This raises an important question: Do you have to give the ring back if you get divorced in Florida? The general answer is 'no'—although there are some exceptions, and the rules are different if you never actually got married. Here, our Clearwater divorce lawyer provides a basic overview of Florida law on divorce and engagement rings.
The Standard: A Ring is a Premarital Gift and Not Subject to Equitable Distribution 
The key thing that you need to know about engagement rings and divorce is that Florida courts generally view these rings as a premarital gift. As such, engagement/wedding rings are typically not subject to equitable distribution. Instead, they are considered to be the sole property of the person who received the ring. In the 1997 case of Greenberg v. Greenberg, Florida's Fourth District Court of Appeal reversed a lower court's decision, clearly stating that engagement rings are an interspousal gift and, thus, non-marital property.
That being said, issues of property division must always be assessed on a case-by-case basis. While engagement rings are generally individual property for the purposes of a divorce, there are some exceptions. Most notably, if the parties sign a legally valid pre-marital agreement stating that the ring should be returned in the event of a separation, then that agreement will most likely be enforced.
Are There Special Rules if the Ring is a Family Heirloom? 
No. There is no specialized law or statute governing rings that are family heirlooms. If you want to get a family ring back as part of a divorce, you should discuss the issue with an experienced attorney. A lawyer can review the specific circumstances and help you devise the best approach. 
What If the Marriage Never Happens?   
While engagement rings and wedding rings are typically not required to be returned in a Florida divorce, the rules are somewhat different if the marriage never actually happens in the first place.
Florida law views an engagement ring as a conditional gift. If the person who receives the ring breaks off the relationship before the condition (marriage) has been satisfied, then the engagement ring may need to be returned.
To be clear, once a marriage happens, all conditions of the gift have been satisfied. At that point, a ring is likely to be considered separate property that is not required to be returned—even if the marriage does not work out.   
Speak to a Largo, FL Divorce Attorney Now
At the Law Office of Gale H. Moore P.A., our Florida divorce attorney has the skills and legal knowledge needed to handle the full range of property division cases. To set up a strictly private review of your divorce, please call us today. From our office location in Largo, we serve clients in Pinellas County and throughout the surrounding region.
Resource:
casetext.com/case/greenberg-v-greenberg-60
https://www.galehmoore.com/how-long-does-it-take-to-get-divorced-in-florida/