Can a Judge Order Us to Go Through Marriage Counseling Before We Get Divorced?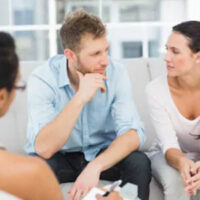 The decision to get a divorce is a difficult one. Every couple has to face their own unique issues.  In some cases, married couples go through months or years of counseling before deciding that a divorce is the right option. In other cases, one or both partners may simply have no interest in counseling.
You may be wondering: Am I legally required to get counseling before getting divorced in Florida? The answer is that counseling is not required as a matter of law, but a judge might order it in some cases. Below, our Clearwater divorce attorney provides a more comprehensive explanation of what you need to know about court-ordered marriage and family counseling in Florida.
Florida Law Does Not Require Divorcing Couples to Seek Marriage Counseling 
Some jurisdictions require marriage counseling, family counseling, or a similar form of professional therapy before a divorce can be finalized. Florida is not one of those states. Under Florida law, completion of marriage and/or family counseling is not a statutory requirement for divorce—meaning many couples can and do get separated without ever going through any type of professional counseling. That is not to say that counseling is a bad idea. Quite the contrary, it can be extremely beneficial for many divorcing couples. Still, it is not a statutory requirement in Florida. 
Family and Marriage Counseling May Be Ordered in Certain Cases 
While counseling is not a legal requirement in Florida, a family law judge may still order it in any specific case. If you and your spouse are able to reach a full settlement outside of court (uncontested divorce), it is less likely, though not impossible, that marital counseling will be mandated by a judge. However, if your case is disputed, counseling may be required. As a general rule, Florida courts tend to order counseling in two situations:
Disputed Grounds for Divorce: If there is a dispute over grounds for divorce or when both parties give an indication that counseling could help their marriage, then a trained counselor may be brought in to help provide clarity.
Young Children are Involved: Parents who share custody & visitation rights for their children will need to maintain a strong working relationship. In accordance with Florida's emphasis on acting in the 'best interests of the child', divorcing parents may be required to go to marriage/family counseling before getting divorced.
If a Florida court does enter an order for marital/family counseling, the divorce proceedings can be put on hold. Parties should be prepared to comply with valid judicial orders. Failure to do so can cause problems. If you have any questions about court-mandated counseling and your rights, a Florida family lawyer can help.
Call Our Largo, FL Divorce Lawyer for Help
At the Law Office of Gale H. Moore P.A., our Florida family law attorney provides reliable, client focused legal advocacy. We will help you find a low conflict, efficient resolution to your divorce case. For a confidential initial consultation, please contact us now. We represent clients throughout the region, including in Belleair, Feather Sound, Safety Harbor, Dunedin, Seminole, and Palm Harbor.
Resource:
leg.state.fl.us/statutes/index.cfm?App_mode=Display_Statute&URL=0000-0099/0061/Sections/0061.13.html
https://www.galehmoore.com/florida-divorce-and-estate-planning-what-you-need-to-know/