What You Need to Know About Virtual Visitation (Electronic Communication) Rights in Florida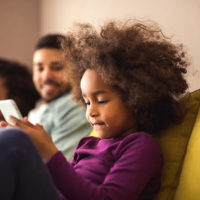 Time spent with your children is precious. It should not be interfered with or interrupted for any reason. For non-custodial parents (parents who do not live with their kids on a full-time basis), this time is even more important as it is inherently limited. One of the great advantages of modern technology is that you can spend time with your children without actually being face-to-face.
Florida policymakers recognized the importance of virtual visitation. Florida law (Section 61.13003) empowers the state's family law courts to order electronic communication between parents and their children. Here, our Clearwater child custody lawyer highlights some of the most important things Florida parents should know about child time-sharing and virtual visitation rights.
Defining Electronic Communication  
Florida defines the term 'electronic communication' broadly. Any form of technology could potentially be ordered as the means for electronic communication between a parent and their child. The court simply has to review whether or not that type of technology is appropriate within the context of the specific case at hand. For reference, court-ordered electronic communication might include:
Phone calls;
Text messages;
E-mails;
Computer chat;
Social media contact; or
Video calls, such as FaceTime and Skype.
Factors in Assessing Virtual Visitation Rights 
Under Florida law, family law courts are required to consider the following four factor test when determining whether or not electronic communication should be ordered:
If electronic communication is truly in the best interests of the child;
If the specific form of electronic communication is reasonable, given its availability and affordability;
If there is any history of abuse by either parent, which might make electronic communication problematic; and
If there are other issues that might be material to the case.
It is worth noting that Florida courts are generally in favor of awarding some form of electronic communication to parents who live away from their children. Though, the court may give the child some input in the decision, if the court views that child as mature enough to make such a decision.
Child Time-Sharing and Electronic Communication: Collaborative Solutions Work Best   
Our family law team has deep experience handling collaborative divorce in Florida. We know that, when possible, it is best for families to work together to find a mutually agreeable solution to their problems. This is especially important in cases involving children. To protect the emotional well-being of your kids, you must always be sensitive to their needs. Ideally, you will be able to work with your attorney and your former partner to find a virtual visitation schedule that works best for everyone involved.
Contact Our Clearwater Family Law Attorney Today  
At the Law Office of Gale H. Moore P.A., our compassionate child custody and visitation team is standing by, ready to assist you with your family law needs. If you have any questions or concerns about electronic communication rights in Florida, please call our law office now at 727-584-2528 to set up your consultation. We represent family law clients in Clearwater, Largo and throughout the region.
Resource:
leg.state.fl.us/Statutes/index.cfm?App_mode=Display_Statute&Search_String=&URL=0000-0099/0061/Sections/0061.13003.html