What You Need to Know About Student Loans and Florida Divorce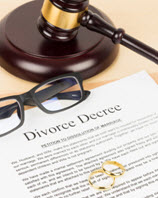 For the last few decades, the cost of higher education has risen far faster than the rate of inflation. Americans have more student loan debt than ever before. According to data provided by Student Loan Hero, 44 million people are currently paying off student loans. Our collective student loan debt exceeds $1.4 trillion.
There are many different consequences to the dramatic rise in student loan debt. One thing that many people do not often think about is that student loan debt has increasingly become an issue in divorce cases. If you are getting divorced in Clearwater, Florida, and you have questions about student loan debt, it is recommended that you consult with an experienced attorney.
Florida is an Equitable Distribution State 
Florida is an equitable distribution state. Under Florida law (Section 61.075), all of a couple's marital assets and all of their debts are to be divided in a 'fair' manner. This does not necessarily mean that there will be a 50-50 split. Instead, Florida courts will work to find a solution that is deemed to be fair to each partner's interests. What does this mean for student loans? It means that if a student loan qualifies as marital debt, it will be viewed as one part of the couple's total assets. It will essentially be put into a large pot with the rest of your finances. In other words, the student loan debt could be divided between the two parties. If student loan debt is marital debt, the spouse who did not take out that loan could still be on the hook for paying it.
How to Determine if Student Loan Debt Qualifies as Marital Debt  
Student loan debt is not always marital debt. There are many cases in which courts will view this type of debt as one spouse's individual debt. Similar to other debt issues in divorce proceedings, student loan debt must always be viewed on a case-by-case basis. There are many different factors that Florida courts will consider when determining whether or student loan debt is marital debt. Examples include:
Whether or not there was a relevant prenuptial agreement;
Whether the loan was acquired before or after the marriage started;
How long the marriage lasted after the loan was acquired; and
If the student loan helped to bring in money to the marriage.
If the student loan was used to help improve the financial prospects of the couple, there is a strong chance that a Florida court will view that debt as marital debt. However, it is important to remember that these cases are always complicated. The totality of the circumstances must be considered. 
Contact Our Clearwater Divorce Lawyer Today
At the Law Office of Gale H. Moore P.A., our compassionate divorce lawyer has deep experience handling marital separations involving student debt. If you need help with your divorce, please call us today at 727-584-2528 for a fully private consultation. With an office in Largo, our law firm serves clients in Clearwater and throughout the surrounding communities.
Resource:
studentloanhero.com/student-loan-debt-statistics/