What You Need to Know About Step Parent Rights in Florida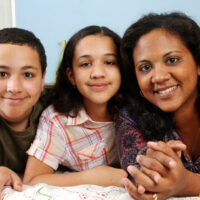 Blended families are the norm in the United States. Based on comprehensive research, The Step Family Foundation observes that half nearly half of all U.S. families are either re-married or re-coupled.
With approximately 60 million children living with a step parent, this raises an important question: What rights do step parents have? In Florida, the answer is "not many"—unless they have adopted their step child. Here, our Clearwater child custody lawyers provide an overview of step parent rights in Florida.
Limitation: A Non-Custodial Biological Parent Retains Rights Over a Step Parent  
Consider the following scenario: You are married and your spouse has young children from a previous relationship. Your spouse also has primary custody of the kids—meaning your step children live with you on a full-time basis. The other non-custodial biological parent has visitation rights.
As a step parent, how do your rights compare to the non-custodial parent's rights? The answer is not well. In the scenario described above, the rights of the non-custodial parent will take precedence over step parent rights. Even if the children are living under the same roof of a step parent who is married to the custodial parent. Florida law is very clear: Step parents lack formalized parental rights unless they adopt the child. 
Florida: Step Parents Must Adopt Children to Obtain Full Parent Rights 
If you are a step parent and you want to obtain full parental rights for your step children, you should adopt them. Of course, your ability to adopt a step child is not guaranteed under the law—even if you are married to the custodial parent.
The most effective way to pursue a step parent adoption is to obtain consent from the non-custodial parent. When possible, this is the best path forward. If you have consent from both of your step child's biological parents, Florida courts will generally permit the adoption.
If the child's other parent is unable to give consent—because they are deceased, incarcerated, or otherwise missing—it is imperative that you explain why consent was not able to be obtained and you document any efforts to notify that parent of the proposed adoption. Failure to attempt to notify a non-custodial parent could result in an adoption proceeding dismissed.
Of course, in some cases, a non-custodial parent may object to the adoption. While it is more challenging to complete a step-parent adoption over the objections of a biological parent, it can sometimes be accomplished. In this scenario, you should contact an experienced Florida family law attorney right away. A lawyer will help you understand your rights and options. 
Speak to Largo Family Law Attorneys for Immediate Assistance
At the Law Office of Gale H. Moore P.A., our Largo child custody & visitation attorney has the skills, knowledge, and experience to handle the full range of step parent rights cases. If you need legal support, call us today for a confidential consultation. From our office in Largo, we represent parents throughout the region, including in Clearwater, Dunedin, Pinellas Park, and Seminole.
Resource:
stepfamily.org/stepfamily-statistics.html
https://www.galehmoore.com/do-children-ever-testify-in-child-custody-proceedings-in-florida/