What is a Simplified Divorce in Florida?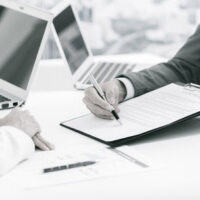 No one wants to go through a long or nasty divorce. Most separating couples want to resolve their issues as smoothly and quickly as possible. A low-conflict resolution can help to put you in the best position to move forward with your life.
In Florida, some married couples qualify for a type of "quick divorce" called a simplified divorce. When appropriate, this type of divorce allows for a faster, more cost effective manner of separation. In this article, our Clearwater divorce lawyer provides a guide to simplified divorce in Florida.
Simplified Divorce in Florida: Four Requirements
Married couples can use Form 12.901(a) to file for a simplified dissolution of marriage. However, not all couples are eligible to file for a simplified divorce in Florida. In order to use this legal tool to end your marriage, you and your spouse must satisfy all of the following five basic legal requirements:
Uncontested Divorce: By definition, a simplified divorce is a form of uncontested divorce. A petition must be filed jointly. If one spouse objects, you cannot use Florida's simplified divorce process.
Residency: You or your spouse must have lived in Florida for at least six consecutive months.
No Shared (Minor) Children: You must not share children with your spouse. In addition, the wife cannot be pregnant at the time of the divorce filing.
Property Division Settlement: Before you can file for a simplified divorce, all property issues must be resolved. Indeed, a settlement agreement must be included with the initial filing.
No Outstanding Obligations: The spouses cannot have outstanding financial obligations that are enforced by state courts. If one party is paying child support or spousal support to the other, simplified divorce is not available.
You Must Get Your Divorce Right  
For some divorcing couples, a simplified dissolution of marriage offers real benefits. Indeed, it is generally the best option for couples that have limited assets. In addition, couples that are able to reach a property distribution settlement agreement without much trouble may also benefit from a simplified divorce.
Still, it is important to take the time to get your divorce done the right way. Even if you and your spouse are eligible to get a simplified divorce, it might not be the correct option. Please be aware that when married couples use the simplified divorce process, they are giving up their right to trial and right to file an appeal. You should consult with an attorney before finalizing your separation. Do not accept an unfair settlement agreement just to get your divorce "over with". Protect your rights and interests. 
Get Help From a Largo, FL Divorce Attorney Today
At the Law Office of Gale H. Moore P.A., our Florida divorce lawyer is a diligent, dedicated advocate for clients. If you have any questions about simplified divorce or your legal options, we are here to help. Contact our firm today for fully confidential, no commitment consultation. We serve communities throughout the region, including in Pinellas Park, Indian Shores, Seminole, Feather Sound, and Highpoint.
Resource:
flcourts.org/content/download/403028/file/901a.pdf
https://www.galehmoore.com/we-lived-together-before-getting-married-will-that-affect-our-divorce/