What Can I Expect at a Divorce Mediation?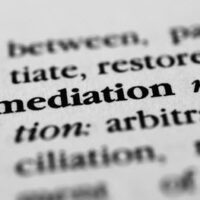 Mediation is a form of alternative dispute resolution that can be especially effective in the family law setting, including in divorce cases. As explained by the Florida Courts, the mediation process is designed to get both sides in the same room, talking to each other in a productive manner and working together with the guidance of a trained, independent third party. If you are considering divorce mediation in Clearwater, FL, you may be wondering: What can I expect during the mediation process? 
The Introduction from the Mediator  
The mediation process itself will typically begin with a formal introduction from the mediator. In most cases, the mediator will introduce themselves and set some basic parameters for how exactly the process will proceed. They may also provide an overview of the key issues that need to be addressed.
From there, parties are often allowed to give a brief statement in which they will raise any concerns that they have. To be clear, you are not required to make a formal opening statement. If you are preparing for divorce mediation, you should always be represented by an experienced mediation lawyer who can help you prepare. 
Parties Will Separate for Individual Meetings  
Family law mediation frequently involves people leaving and entering the room. In almost all cases, you and your legal representative will have an opportunity to sit with the mediator alone, without your partner or their attorney present. Likewise, your spouse will be able to do the same. These separate meetings are an important part of the process. You will always get a chance to tell your side of the story. 
The Focus Will Turn to the Difficult Issues 
As the mediation moves forward, the mediator will move towards the more complex and challenging issues. Of course, what exactly those issues entail can vary widely from case to case. With divorce proceedings, children and finances are usually the most difficult—and important—issues that need to be resolved.
It is not uncommon for mediators to re-separate the parties, perhaps several different times. The flow of mediation is different in every case. In some cases, parties may only be separated once or twice. In other cases, parties may leave the room over and over again. Similarly, some divorce mediations stay in relatively good spirits throughout the process. In other cases, there is a considerable amount of tension. Regardless, the goal of mediation is always to move forward towards a resolution and settlement.  
Mediation is Fully Voluntary—Agreement May or May Not Be Reached 
It is important to remember that mediation is a voluntary and non-binding process. If you are working towards an agreement, that is great news. You and your spouse can always stay at it, potentially even coming back another day. Still, mediation does not work for every divorcing couple. You are always free to exit the process and use an alternative legal option. 
Speak to Our Clearwater Divorce Mediation Lawyer Today
At the Law Office of Gale H. Moore P.A., our Clearwater mediation attorney represents clients in divorce mediation. For a strictly confidential divorce consultation, please call our Largo law office at 727-584-2528. We serve clients in Clearwater and throughout the surrounding communities, including in Pasco County and Pinellas County.
https://www.galehmoore.com/four-tips-to-help-you-prepare-for-your-florida-family-law-mediation/