The Talk: How To Tell Your Children About A Divorce Or Separation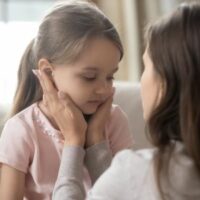 Divorce and separation is a common part of life. As noted within data collected by the Pew Research Center, more than half of U.S. children have divorced or separated parents. Nonetheless, a parental separation can be challenging for children. Having "the talk" with your kids can be stressful—but there are proactive steps that you can take to help ensure that it goes as smoothly as possible. In this blog post, our Clearwater child custody law attorney offers six actionable tips for talking about divorce or separation with your kids.
Plan Ahead: Be Ready for the Talk 
Talking to your kids about divorce can be very difficult. It is not an issue that you will want to slip out at the last second. Proper planning is a must. Make sure that you are ready to have the conversation in a calm, safe, and well-prepared environment. 
Never Blame Your Children for the Divorce or Separation 
Perhaps the most important thing to keep in mind when talking about divorce with your children is making sure that they are never made to feel as if they are the cause of the problems. You and your spouse may have disagreements about parenting, but you should never blame kids for divorce. 
Remember Age and Maturity Level 
The talk is different for every family. When preparing to speak to your children about divorce, it is important to remember their age and maturity. Bring up the issue in a manner that is well-suited for their individual needs. If you have multiple kids, you may need to have different conversations. 
Allow Children to Express their Feelings 
It is not uncommon for children to have questions—or opinions—about their parent's divorce or separation. You should generally give space for your children to express themselves. They should feel like they can talk to you about their issues. 
Focus on the Future—Explain What Will and Won't Change 
The talk about divorce is generally a little bit easier when things stay focused on the future. Make sure your children understand what will (and will not) change as a result of the separation. 
Consider Seeking Professional Help (Therapy, Counseling, etc)
Finally, it is useful to remember that professional support is available. Similar to how you can rely on a family law attorney for help with the legal aspect of your divorce, you can work with a professional therapist or counselor for help with the more personal issues involving your kids.
Speak to Our Clearwater, FL Child Custody Attorney for Immediate Help
At the Law Office of Gale H. Moore P.A., our Clearwater child custody lawyer is a compassionate, experienced advocate for clients. We are committed to helping parents find the amicable solutions  that work best for their families. Give us a call or reach out to us online to arrange your confidential consultation with a custody lawyer. Our family law firm provides representation to parents throughout the area, including in Largo, Dunedin, Oldsmar, Seminole, and Pinellas Park.
Resource:
pewresearch.org/social-trends/2015/12/17/1-the-american-family-today/