Pets and Divorce in Florida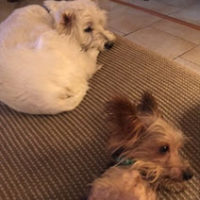 Many families have beloved pets. Indeed, according to data collected and published by the Insurance Information Institute (III), nearly 70 percent of all American households currently own at least one pet. Whether it is a cat, a dog or a something other type of creature, for many, their pets have become true members of their families. As there is such a deep emotional bond and attachment, issues involving pets can be extraordinarily challenging should a couple decide to get a divorce. Here, our experienced Clearwater divorce attorney discusses how pets are treated in Florida divorce proceedings.
Florida Law: Pets are Property

As much as pets may feel like members of your family, under Florida law, animals are treated as property. This fact has important implications for what will happen to your pet in the event of a divorce. Whereas in a child custody case, a Florida court will need to determine what is in the best interest of the child, in a pet case, the court will be focused on who owns the pet. The pet, like any other asset, with be subject to the state's equitable distribution process. Of course, this means that you will need to determine which spouse actually owns the pet. This question will lead to one of two different results:
The pet(s) is individual property, and thus owned wholly by one spouse; or
The pet(s) is marital property, and thus shared by the couple.
Generally, a pet will only be deemed individual property if one of the spouses had the pet prior to the beginning of the marriage, in which case they would have a strong claim to ownership, or if one spouse can prove that they essentially did all of the work in paying for and caring for the animal. The second scenario is far more challenging to prove, should a dispute arise. Otherwise, the pet will be deemed marital property, and it will be one more 'asset' that needs to be divided up.

With Pets, Collaborative Solutions Work Best

For pets that do qualify as marital property, Florida courts will simply put a financial value on them, just like they would for any other asset. This value will be completely detached from the real value of your beloved pet. As such, courts can be really ineffective when it comes to handling pet-related issues in divorce. The best way to proceed in these types of cases is often to try to negotiate, working with your spouse in a collaborative manner to find a workable solution. If your pet is an issue of contention in your Florida divorce case, it is highly recommended that you reach out to a Clearwater divorce attorney who has extensive experience handling collaborative divorce cases.
Contact a Clearwater Divorce Lawyer Today

At the Law Office of Gale H. Moore P.A., our compassionate Florida divorce team understands that cases involving pet-related disputes are sensitive and complex. We can help you protect your rights and find a resolution. For immediate assistance, please reach out to us today at 727-584-2528. Our office is located in Largo, and we serve families throughout the region, including in Clearwater, Indian Rocks Beach and Seminole.
Resources:
iii.org/fact-statistic/pet-statistics
leg.state.fl.us/Statutes/index.cfm?App_mode=Display_Statute&URL=0000-0099/0061/Sections/0061.075.html