Florida Divorce: Is A 50/50 Split Of The Marital Property Guaranteed?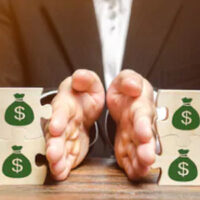 Property division is one of the most challenging aspects of the divorce process. Before you and your spouse can finalize a divorce, you will need to determine who gets what. This raises an important question: Is an even split of the property guaranteed in a divorce in Florida? The answer is 'no'—the state uses an equitable distribution standard. While a 50/50 split is appropriate in many cases, it is not guaranteed. In this article, our Clearwater property division lawyer provides a more detailed overview of the things you need to know about our state's equitable distribution statute.
Florida Law: Equitable Distribution of Marital Property
Similar to many other U.S. jurisdictions, Florida is an equitable property division state. Under Florida Statutes § 61.075, the court is required to divide property, assets, and debts in a manner that achieves equity between the parties. An equitable distribution is a fair distribution. When deemed fair, Florida courts can divide marital property in an uneven manner.
A 50/50 Split is Still the Presumption in Florida 
It should be emphasized that a 50/50 split of property is the result in many Florida divorce cases. In fact, the state's equitable distribution statute clearly states that "the court must begin with the premise that the distribution should be equal." In other words, Florida courts assume that a 50/50 split is appropriate in any contested divorce case. With that starting point in mind, they will then review all other factors deemed relevant to determine if an unequal division of assets is required on equity grounds. Florida courts can review a wide range of factors, including:
The contribution to the marriage by each party;
The current and future economic prospects of each party;
The duration of the marriage;
Any interruption to career/earning potential caused by marriage or family; and
Any intentional or reckless waste or abuse of marital assets.
Divorcing Couples have Wide Discretion to Reach a Property Division Settlement 
In a contested divorce case, a Florida court will carefully review and evaluate the specific circumstances to determine the proper division of assets under Florida's equitable property distribution standard. That being said, uncontested divorces are far more common in Florida. A divorcing couple has wide latitude to reach their own property division arrangement as part of their divorce settlement. An experienced Clearwater, FL divorce lawyer can help you determine the best path forward in your case. 
Schedule a Confidential Consultation With a Florida Divorce Attorney Today
At the Law Office of Gale H. Moore P.A., we are skilled, future-focused advocates for clients. If you have any specific questions about divorce and property division, we are here to help. Contact our family law team now for your strictly confidential initial consultation. Our family law team handles property division cases throughout the region, including in Largo, Clearwater, St. Petersburg, Palm Harbor, Tarpon Springs, Pinellas Park, Belleair Bluffs, Seminole, and Indian Rocks Beach.
Resource:
leg.state.fl.us/statutes/index.cfm?App_mode=Display_Statute&URL=0000-0099/0061/Sections/0061.075.html