Five Reasons Why a Prenuptial Agreement Might Be Invalid in Florida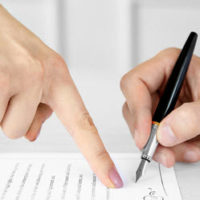 Some Florida couples sign prenuptial agreements immediately prior to the start of the marriage. Simply put, a prenup is a legally binding contract that addresses certain issues related to property, assets, and debts. In Florida, prenuptial agreements are considered to be enforceable. That being said, to be upheld, your prenuptial agreement must conform to the requirements of Florida law (Florida Statutes 61.079).
Each year, a significant number of prenuptial agreements are ruled invalid by Florida family law courts because mistakes were made. Part or all of your prenup could be set aside if there are problems with the way it was negotiated or drafted. In this article, our experienced Clearwater family law attorney highlights five of the most common reasons why a prenuptial agreement might be ruled unenforceable in Florida.
Nothing Was Written Down

Within certain contexts, oral contracts can be enforced in Florida. However, that is not the case with prenuptial agreements. Premarital agreements are subject to key family law requirements. For this type of agreement to be valid, it must be written down.
Insufficient Disclosures Were Made

As a prenuptial agreement is fundamentally a contract, the parties have a legal responsibility to bargain for it in good faith. In Florida, this means making comprehensive financial disclosures prior to signing the agreement. If one spouse hides assets from their partner, any prenuptial agreement affected by that deception may be ruled invalid. 
Certain Provisions are Barred By Florida Law

Under Florida law, only certain issues can be 'bargained for' within a prenuptial agreement. For example, child custody, child visitation, and child support issues cannot be part of your prenup. If these terms are considered central to your agreement, then the entire prenup may simply be thrown out. 
Inadequate Time Was Given for Review

Both spouses may work to draft the prenup together. Though, in many cases, the prenuptial agreement is presented by one partner to the other. Under Florida law, the party who is seeking the prenup must give their partner adequate time to review the agreement. If you signed a prenup that was presented to you at the very last second, it may not be valid under state law.  
The Agreement Was Poorly Drafted

Like all contracts, sloppy drafting can undermine the enforceability of the agreement. You should never draft a prenup on your own. If you and your partner are signing a prenup, it should always be drafted and reviewed by a skilled Florida divorce attorney. It should be noted that couples should not be represented by the same lawyer when crafting a prenup. Each partner needs their own legal advocate who will represent their best interests.
Contact Our Clearwater Divorce Attorney Today
At the Law Office of Gale H. Moore P.A., our top-rated Florida family law attorney has deep experience negotiating, drafting, reviewing, and litigating prenuptial agreements. To get immediate help with your family law issues, please call us today at 727-584-2528 or contact us online. We represent clients in Clearwater and throughout the surrounding communities, including in Pinellas County and Pasco County.
Resource:
leg.state.fl.us/Statutes/index.cfm?App_mode=Display_Statute&URL=0000-0099/0061/Sections/0061.079.html