Divorce Mediation in Florida: Four Common Mistakes to Avoid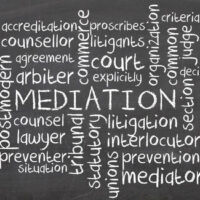 One of the most popular forms of alternative dispute resolution (ADR) is mediation. As mediation is a non-adversarial and collaborative process, it can be especially effective in family law settings. If you are like most people who are going through a divorce, you want to reach a reasonable, amicable divorce settlement without getting stuck in an endless dispute.
Mediation offers a path forward. Even if you and your spouse are not on the same page right now, you can still work towards an agreement in mediation. Florida divorce lawyer Gale H. Moore is an experienced family law mediator. We want to make sure that you are in the best position to use the process. Here are four common mistakes that can undermine a divorce mediation.
Treating Divorce Mediation Like Divorce Litigation

As described by the Florida Courts, mediation is a non-adversarial process that emphasizes negotiation and collaborative problem-solving. Mediation is not binding. There is no winner. The mediator will not decide who is right or wrong nor will the mediator make any final decision on your case. Treating mediation like litigation is a serious mistake. If you do not enter the process in the right mindset, it is unlikely to be effective.  
Refusal to Compromise on Any Material Issues

Divorcing couples have many mutual interests—especially if they share children. That being said, there are also going to be some areas of disagreement, potentially even sharp disputes. It is normal to have conflict in mediation. At the same time, the process will only work if there is some willingness to compromise. Without some level of 'give-and-take' it is difficult for divorcing couples to reach a settlement. 
Failing to Disclose Important Financial Information

Under Florida law, parties to a divorce are legally required to make certain financial disclosures. If you fail to disclose important financial information in a timely manner, it will undermine the settlement process. Even worse, it could lead to sanctions down the road should your divorce end up in litigation. Both spouses should make comprehensive, accurate financial disclosures when entering into divorce mediation. 
Focusing on the Past, Not the Future

Finally, mediation works best when the parties are future-oriented. Ultimately, the goal of divorce mediation is to find a fair and reasonable settlement that works for both parties. A divorce is about the future. Of course, a marital separation is deeply emotional. There are often raw feelings. As a general rule, mediation is not the best place for a focus on the past. An eye to the future can help to move your divorce case forward.
Speak to Our Florida Divorce Mediation Lawyer Today
At the Law Office of Gale H. Moore P.A., we are prepared to help with your divorce mediation. Clearwater divorce attorney Gale H. Moore is an experienced, effective divorce mediator. To find out more about what we can do for you, please contact us today. With an office location in Largo, our divorce mediator serves communities throughout the entire region, including in Pinellas County, Pasco County, and Hillsborough County.
Resource:
flcourts.org/Resources-Services/Alternative-Dispute-Resolution/Mediation-in-Florida
https://www.galehmoore.com/three-common-divorce-delay-tactics-and-how-to-overcome-them/